For this train, our designers have decided to work with the same color scheme so that you will have a beautiful coordinated kit at the end of the train ride!

Please take a peek at the kit (not all papers, elements, templates and quick pages shown!!):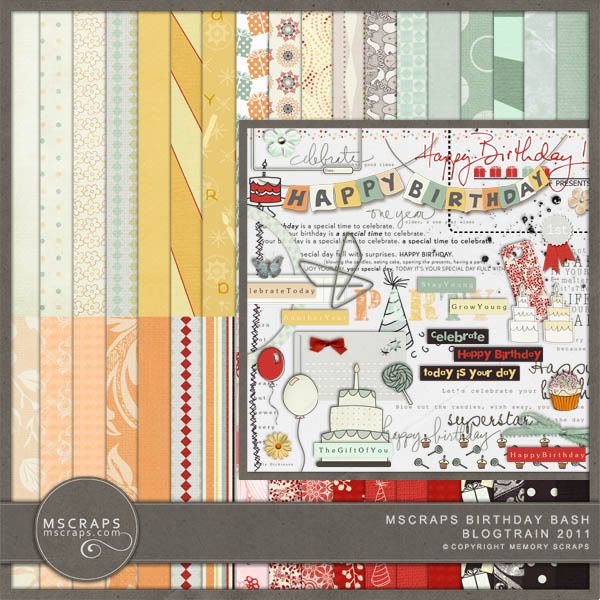 Here is my part for you...



:: click here to download ::

(The download is at the bottom of the page)

(note: the PSE version has some kinks. If you get an error please press enter on your keyboard and the action will continue, giving you the same results)

Now, go and collect all of the other beautiful, gorgeous and yummy treats!!

Your next stop is: Carly and Loreta:


In case you get lost or stuck, here's the full list of "stations":

First Stop: MScraps Forum - http://mscraps.com/forum

Anita: http://www.designsbyanita.blogspot.com/
Brenda: www.brendasmithdesigns.blogspot.com
Carly and Loreta: http://rednecktreasures.blogspot.com/
Chris (hutchie): http://hutchyhutchie.blogspot.com/
Cheryl: (gonewiththewind): http://cherylisadomesticgoddess.blogspot.com
Dunia: http://duniascrap.blogspot.com/
Elisa: http://blog.through-my-eyes.org/
[/COLOR] Erica: http://ericazwartdesignz.blogspot.com/
Heather: http://oohlalaartsy.blogspot.com/
Helen: http://helens-art.blogspot.com/
Ing: http://www.i--scrap.blogspot.com/
Jaime (threepaperpeonies): http://www.threepaperpeonies.com/
Jennyf92: http://jenflaherty.wordpress.com/
Jippo: http://designsbyjippo.blogspot.com/
Joyce: http://joycepauldesigns.blogspot.com
Leilani: http://fromleilani.blogspot.com/
LieN: http://clickphoto-lien.blogspot.com/
Lucie (ad77design): http://ad77design.blogspot.com/
Mary: http://www.marnels.blogspot.com/
Patti: www.dailycrimesofpassion.blogspot.com
Sabrina: http://sabrina-creations.blogspot.com/
Sasha (busy bee designs): http://busybeetemplates.blogspot.com/
Scooty: http://scootysdesigns.wamby.be/
Tanya: http://www.tanyatumbles.com/
Tracy Anne Little: http://www.tracyannelittle.com/
Tronesia: http://Dsbmylife.blogspot.com

Last Stop: MScraps Blog - http://mscraps.com/blog

p.s. Because of the different timezones that we're all in, it is possible that not all freebies are up yet.
Please be patient and check back later!